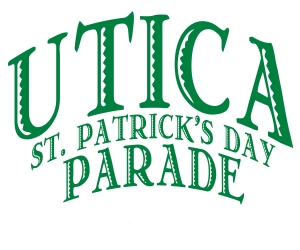 The City of Utica's St. Patrick's Day Parade was started approximately 32 years ago by Johnnie Oakes and a small group of Irishmen that walked down Varick Street.  At that time, the parade consisted of one band and a few vehicles.  The parade was later led by a group of gentlemen that assembled at Roger's Coffee Shop known to many as The Rainbow Sportsmen Club.  As the parade grew over the years, the Adelphia Cable Cares Club was asked to present the parade.

In 2008 the Great American Irish Festival, an all-volunteer organization, whose primary mission is to promote Irish culture and music was asked to assume the responsibility of parade presenter.  This year's event is scheduled for:
The parade will step off at Oneida Square and travel north on Genesee Street ending at Columbia Street.  Many spectators find the reviewing stand area in front of the Stanley Theatre a prime location to enjoy the parade, but the fact is there is not a bad viewing spot along the route.
The parade is considered one of the largest in New York State.  Thousands of local families enjoyed last year's parade which included over 2000 marchers from Canada, Pennsylvania and throughout New York as well as our local favorites.
For more information on the parade visit http://www.gaif.us/parade/ or contact
Kevin Dowling at Assistant-Director@gaif.us or the St. Patrick's Day Parade, P.O. Box 584, Marcy, NY 13403.